EAR is created by Kaspar König and is a non-profit association.
 The idea of EAR is based on personal experience and deep & soft networking, or simply by listening to myself and getting feedback from others. It is now time to share this project and to have it grow naturally with your participation.
EAR aims to initiate and inspire dialogues and narratives, artistic and scientific tacid knowledge, local and foreign experiences, including the environmental scope. EAR aims to become a place of interest for participants in environmental, artistic and scientific challenges. With an open ear to all participants of EAR, listening and being heard is the key to making a difference, and making a deep (ex-)change.
We take a trans-disciplinary approach to bring people together and find inspiration, activate mutual powers to prototype solutions for real life changes, towards healthier people and a sane planet.
Our efforts aim to achieve:
doable creative ways to work together ;
actions relating to carbon capture, air- and water hygiene, biodiversity ;
circular product ideas & prototyping ;
musical skills to play freely and sharpen your ears ;
bodily attention to balance your body and mind ;
in order to avoid anthropocene catastrophies.
Mediation (art-)practices is my passion! Combining my interest to make a positive footprint leads me towards a carbon neutral footprint and the use of positive materials like wood, algea, mycelium and much more. Offline and online artistic activism is the key to EAR. Together we are shaping this vision.
EAR is here if you are interested to initiate or partake and engage with your beautiful energy, whatever means, your brains and/or hands, or what you bring for planetary reasons. There are many ways you can contribute.
Do you want to make a workshop, a lecture, a residency or a concert and/or is your idea based on a rural-urban enterpreneurship? Feel free to propose anything you seem fit.
 Share your ideas with us here : share@ear.education
LAPTOPS IN SPACE – a virtual-realm of EAR to meet up anywhere.
https://ear.laptopsinspace.de/
Laptops in space is a digital artwork by neesh GbR and bureau314.
Thanks to their support, you can explore EAR in a digital realm.
Make an appointment by mailing to share@ear.education or just listen around on this page: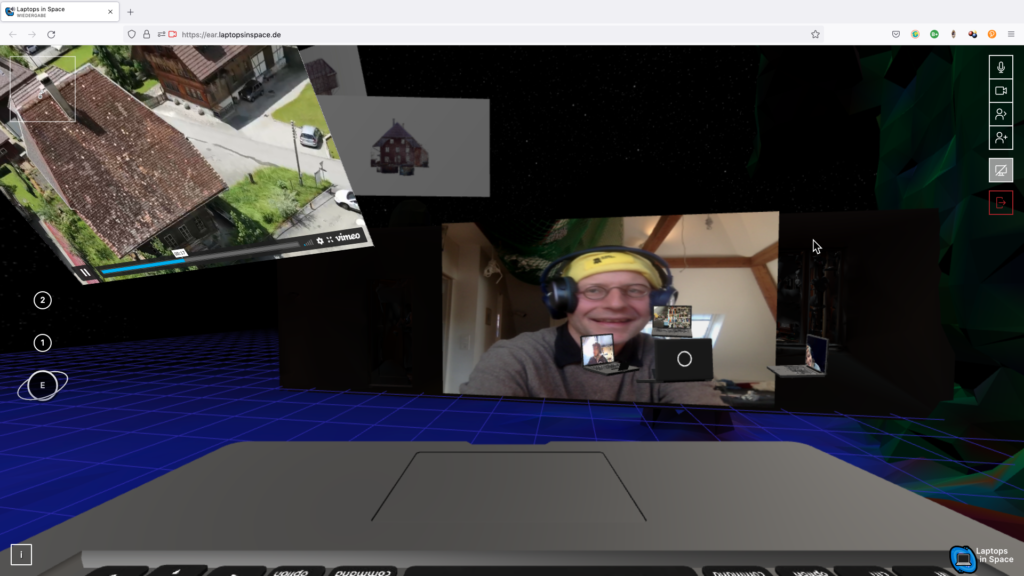 rural – urban enterpreneurship
City and countryside differ in many ways and that is a fact.
What bridges and what separates communities and environmental developments in their contexts? EAR is takes a closer look and listens to what is happening in the field in detail. Being in the field is also our scientific and artistic arena.

EAR is running on the narratives of pros and cons to learn and transform them in (re-)actions in the field, taking communities along, sparking hope and maybe some biodiversity too.

EAR develops into an interpreneur or edupreneur between ideas, locals, sciences and funding, to realize new relationships based for the future on the facts of today. Art and creativity is a bigger gamechanger in the non-urban areas then in the city.
What do you hear on EARth?
Within a soundbased practice, listening is the skill to train and maintain, to explore but never ignore. Listening is the start of coming closer to an understanding of what occured, and reflection on listening to a desired epistemic undertaking. We learn to read, by listening. Even writing starts with listening. How do we learn to listen? And in how many ways can you listen? EAR wants to explore this with you. A soundtradition of many Alps-regions is called "Jauchzen" and EAR will figure out how does this cheerful yell relate to today. Can we imagine, activate and practice our "own individual" jauchzen?
Positive footprint academy
How does a carbon-positive footprint feel like?
Or how can one encourage the other to do good.
Now and in the near future, focused dedication to environmental understanding and its' transformation into positive action, is crucial for planetary health and its inhabitants (us!), as we all know. But how do we make those steps into positive footprints ?

Which knowledge, common ground and action is combined to actually make a difference in your footprint ?